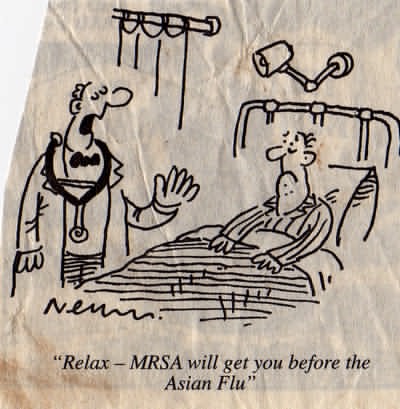 I have received many questions regarding MRSA. There has been an increasing number of reports in the press lately about the potential dangers of this particular infection which has been labeled as an epidemic.
MRSA stands for methicillin-resistant Staphylococcus aureus bacteria. It is only one of the
superbugs
that have emerged over the last several years. Methicillin is a penicillin type antibiotic. Decades ago, a strain of staph (staphylococcus) that was resistant to the more powerful antibiotics emerged in hospitals and was dubbed MRSA.
In 1990's a strain of MRSA was detected in the wider community which was distinct from the clones found in the hospitals. This is now called community-acquired MRSA (CA-MRSA) as opposed to the hospital-acquired MRSA (HA-MRSA). Prevalence and incidence of CA-MRSA has been increasing.
USA300
is the predominant clone of MRSA and may be more transmissible. It is the major source of this infection in US, Europe, and Canada, and reports suggest that it has increased virulence.
Staph bacteria are normally found on the skin or in the nose of about one-third of the population. These people who are colonized by staph or MRSA can pass the bacteria to others through
direct contact
. If the bacteria enter the body through a cut or other broken skin then they can cause more serious illnesses in some people. The infection generally starts as
small red bumps
that look like pimples or spider bites. These can then quickly become deep painful abscesses. Occasionally they may also go beyond the skin and soft tissues, invading ear, lung, bloodstream, joints, and heart valves.
The infection can be diagnosed by obtaining a
culture of the wound
. This is an important step because certain antibiotics which are normally used for non-MRSA skin infections such as cephelasporins (keflex) but which are the wrong antibiotics for MRSA may actually
turn on the virulence factor
and worsen the outcome of the MRSA infection. According to the New England Journal of Medicine
57% of MRSA infections were treated with the wrong antibiotics
.
Once diagnosed, a simple incision and drainage of the lesion may be all that is needed to cure it.
Antibiotics that have been shown to still be effective
include clindamycin, trimethoprim/sulfamethoxazole, tetracycline, rifampin, and vancomycin.
The best way to prevent the infection is to wash your hands. Other
preventive measures according to the CDC
include keeping cuts and scrapes covered by bandages, avoiding using others' personal items such as towels and razors, and wiping surfaces of equipment at gyms or athletic departments before and after use.
References: please see above links.
Image courtesy of
whaletobird
.